Business sectors
Foods & Beverages
Chemistry / Petrochemistry
Cement
Energy (gas, nuclear)
Environment (water treatment, waste treatment)
Paper
Oil (exploration-production)
Pharmaceuticals/ Cosmetics
Steel industry
Glass industry
….
Facilities concerned
Continuous and semi-continuous processes
Batch process
Utilities
Storage and blending
Optimize your industrial tool
thanks to the expertise
of a specialized partner
As an independant company, SPC has more than 25 years' experience in consulting, implementation of system and training for industrial major clients. Specialized in automation system and industrial Information System, SPC offers you to benefit from its expertise through support tailored to each project : for industrial production, Laboratories & Quality or Research & Development.
A real expertise in automation of continuous, semi continuous and batch processes, combined with an extensive experience in the implementation of automation systems and security systems, make SPC a recognized player for construction or renovation project, and optimization of the process control.
Our methodological contribution in the conduct of projects, built on extensive feedback, secures the progress of your project in all its phases, from design to commissioning on site, including staff training by SPC Formation.
We work on the following topics:
Process control : process control system architecture, functional analysis, functional and technical standards, engineering services
Advanced Control: multi-variable control, optimization, MMI ergonomics, alarm management, simulators…
Instrumented Safety Systems : security study, SIL classification, reliability calculations, implementation of programmeable safety controllers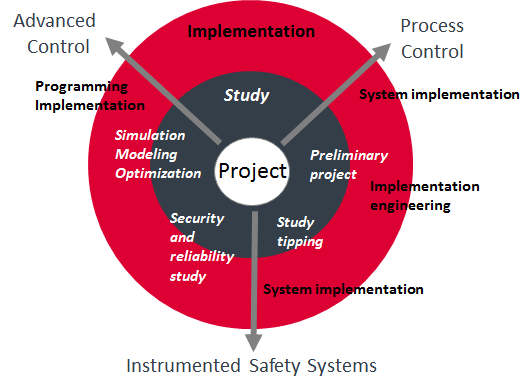 SPC Consultants & SPC training assets
The combination of process knowledge (energy, oil, chemistry, pharmeceutical) and automation skills.
Practical experience in the implementation of regulatory requirements for process safety.
Methods of managing projects focusing on structured approaches of detailed functional analysis
Skills on key automation equipment : DCS (Emerson Delta V, Foxboro IAS, Honeywell Experion, etc…), PLC (Rockwell, Schneider, Siemens), Security Directed(Emerson Delta V SIS, Hima, Honeywell FSC, Quadlog, Triconex), monitoring software (GE Cimplicity et i-Fix, Siemens WinCC, Wizcon, Wonderware Archestra)
Concrete feedbacks in terms of advanced control and simulation.
---
© 2013 ranavision bvba - Apple, iPad, iPhone, iPod touch, and iTunes are trademarks of Apple Inc., registered in the U.S. and other countries.