Ranatree - HUE ready
Create fractal trees on your iPad - iPhone - iPod touch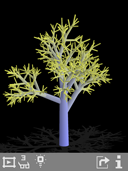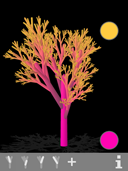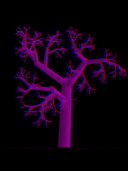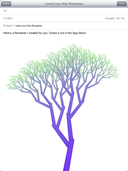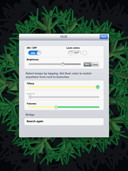 NEW:
Let Ranatree take control of your Philips Hue lights! Sit back and relax, watching Ranatree create colors on your device and in your home!
For all ages! Create and share beautiful trees with only a few gestures, or watch Ranatree build them for you.
Make your own unique fractal trees: a few basic branches are repeated over and over and create complex, colorful designs.
features
intuitive, fun interface: rotate and tilt your view, touch and play with individual branches and watch the whole tree change in real-time
interactive PhotoFrame mode: enjoy the endless variety of the animation; it's like a screensaver, but this time you're allowed to touch!
connects to Philips Hue lights; individual lights can be assigned colors from different parts of the tree
3D fractal trees: true 3 dimensional perspective or anaglyph 3D mode (requires 3D red-cyan glasses)
save images and share them by email
full instructions included, tap near the bottom for the menu and choose 'i' for more information
universal app
Universal app, works with iPad2 +, iPhone 3GS + and iPod touch 4rd gen +.
read more in the online help...

Watch a random PhotoFrame example animation or a kaleidoscopic view from above on YouTube
© 2016 ranavision bvba - Apple, iPad, iPhone, iPod touch, and iTunes are trademarks of Apple Inc., registered in the U.S. and other countries.